How can Harford Restoration help?
We are a family-owned, full-service restoration company servicing the Baltimore-metropolitan area.
With 15 plus years of experience and a committed staff with very little turnover Harford Restoration brings the expert knowledge with a calming approach during a very hectic and stressful time. We're here to assist during this complicated process and help you recover from any damage to your home or business caused by fire, water or mold. Our boutique remodeling services allow us to deliver a custom-made space to you and your family improving your overall home value.

Fire and Smoke Damage Restoration
Let us extinguish the stress that a fire causes. We are your complete service restoration company in the Baltimore-metropolitan area. We will:
Complete the Cleanup
Board-up your home/structure
Be your liaison between insurance adjusters
Provide custom remodeling options
Create a space that increases your home value

Water and Mold Damage Restoration
Our responsive team will be on the scene to help you thru this unexpected time. We provide top-of-the-line mitigation services. We will:
Provide expert recommendations
Remove the mold and mildew but then prevent the problem from occurring again
Be your emergency mitigation provider
Immediate Service Response
Contact us today for more information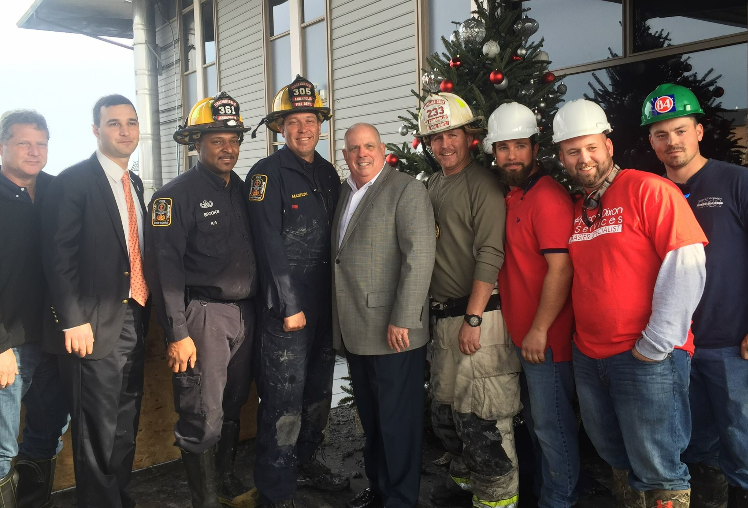 We strive for 100% customer satisfaction
Take a look at what others are saying!
"I have a custom home in Owings Mills, MD. Howell and Son Contracting did a fabulous job on the fire restoration project. There were even able to add a 1200 square foot addition on to my home during the restoration. I wanted to make numerous changes to my house and Howell and Son was more than willing to accommodate. Excellent job!!!"  - Carlos Hough

"My girlfriend and I are only 26 and we had a terrible house fire. Since it had to be rebuilt, we asked if we could have a more modern look throughout. Jim Howell gave us just that and it is beautiful! Great job! Thanks Jim!"  - Kevin Neikirk

"I'm an electrician by trade. When I had my house fire I wanted someone who was willing to work with me and allow me to do the electric work. Jim Howell is great to work with and their work is top-notch!"  - Steve Langril

"I had a devastating house fire at my 3,500 square foot, 5-bedroom home in Baltimore. I was worried that my house was damaged beyond repair. Howell and Son completely gutted my home and replaced everything from top to bottom. It looks fantastic! Thanks so much!"  - Kevin Robinson

"I had a terrible house fire at my home on Pembroke Ave in Baltimore County. The damage was almost $200,000. I worked my whole life to put nice things in my home and I hired Howell and Son because they assured me they would re-build using equal or better materials. Well, I can tell you my house has never looked so good! Jim Jr. and his crew worked tirelessly to make sure I got exactly what I wanted. I am completely satisfied!"  - Arthur Hyde